shapeandglow.com.au

Description
Shape and Glow was founded by Cinderella Dionisio, a Registered Nurse and a Certified Dermal Clinician who gained practice in the Mediterranean, UK, US and Asia-Pacific. Born and raised in the Philippines, she graduated "Cum Laude" with a Bachelor degree in Nursing. After obtaining Masters in Nursing, she completed her Post Graduate studies in Critical Care in the UK. After migrating to Australia, she continued her studies in Dermatology- pioneering the Postgraduate course in Advanced Dermal Science at Victoria University, Melbourne. Cindy is committed to continually keeping herself up to date with the latest technology using both surgical and Non-surgical intervention, Collaborating only with reputable cosmetic surgeons, dermatologists, general practitioners, chemists, pharmacists, researchers and cosmetic companies here and abroad. Her mission is to provide a life changing aesthetic solutions for her client's at the most affordable rates.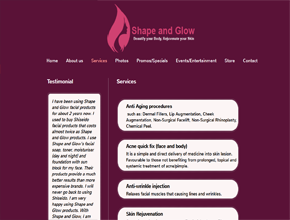 Services Page
This page enables the user to browse through the services that shapeandglow is offering.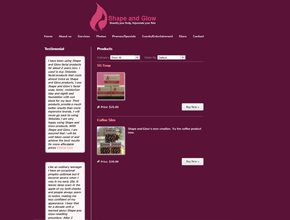 Events Page
This page allows the user of website to explore through the events that shapeandglow is going to arrange.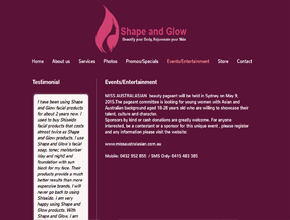 Products Page
Products page provides the basic information about the products of shapeandglow.