arabella.com.au

Description
Authentic Lebanese Food News & Updates » Arabella Restaurant was established in 2002. The owner/head chef at Arabella has over 22 years experience in cooking Lebanese cuisine along with Turkish, Arabic and other Middle Eastern food dishes that will give your taste buds a life time experience which can't be forgotten. He also shared his cooking talent in some of the world's greatest kitchens in Beirut & Dubai. Our chefs finishing touches to the Lebanese cuisine menu is what has labeled Arabella as the tastiest Lebanese Food Restaurant in Sydney, Australia. Arabella is considered to be one of the best and the most authentic Lebanese food restaurant in Sydney, Australia. It has the all the Arabic and Middle Eastern cuisine along with Turkish food dishes. The main cuisine we offer is Lebanese BBQ, Sea Food, Dessert and Drinks along with other Lebanese food dishes in Newtown, Sydney too. Arabella restaurant has quite sleek and discreet look with bathed in muted chocolate browns & warm greys like Middle Eastern or Arabic Restaurants. It has all the modern & funky fit out with banquettes & a luxurious cushion corner among the alcoves secreting Middle Eastern artifacts which develops an ambiance that blends everyone in to Arabic or Middle Eastern theme and feels like sitting in a true Lebanese Restaurant in Newtown, Sydney. Along with the finest Lebanese and Middle Eastern dishes served at Arabella restaurant in Sydney, NSW which also offers exceptional & welcoming service that is suitable for any event including birthdays, hens nights, engagements, corporate functions & many more. Arabella also provides corporate breakfast, lunches, dinners and other corporate events in its Lebanese cuisine restaurant in Sydney area of NSW, Australia and also offers Lebanese food catering services in Sydney.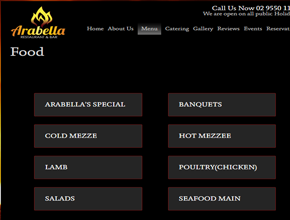 Food Menu Page
This page enables the user to browse through the Food menu that arabella is offering.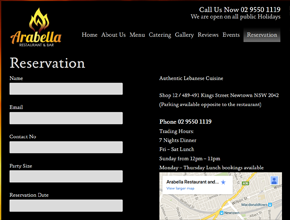 Reservation Page
This page allows the user of website to have new reservations and see the availability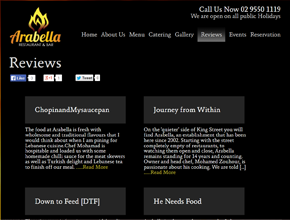 Reviews Page
Reviews page provides the Reviews about arabella that the peoplehave given.