samservices.com.au

Description
At SAMS Services you are provided with the solutions to your pest problems and are also aimed to be protected from such future infestations. Our job is to cater to your problems with our up to date hardware and equipment along with a highly skilled workforce led by extremely capable Entomologists and Engineers so that you get what you pay for. We make sure your business reaches the limits of its potential and the beauty of your home continues to grow without the hindrance brought up by the nuisance of a pest infestation. To fully understand the importance of the answer to this question you first need to know what pests are and why they are unwanted? It goes without saying that you value your home and business very highly. These are perhaps two of the most important and expensive investments one makes in a lifetime and hence it is natural to wish for no misfortune to befall it. A pest is defined as an animal or insect that proves to be detrimental to human concern. Pest infestations are regarded not only as extremely unhealthy but they can be a source of great pain to anyone who holds his properties dear to his heart. They are a danger to the health of anyone living in a pest infested estate as they carry deadly diseases along with them. Apart from that such infestations can prove extremely costly as they cause a lot of damage to the estate and all the assets present within. And even generally pest infestations are unappealing to others and it may harm the reputation of your enterprise. After reading all of the above it's needless to say why you need pest control. Why do you need us? Well once onboard your pest problems are no longer yours, we will deal with all such problems and lay down a set of foundations that will aim to rule out the possibility of future infestations!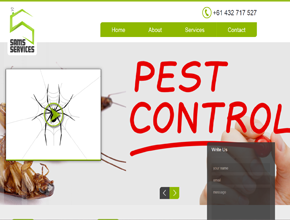 Home Page
This page enables the user to browse through the website of sam services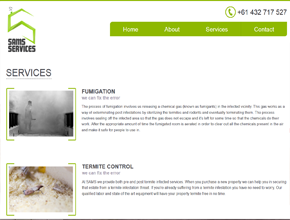 Services Page
This page allows the user of website to explore through the services that samservices is offering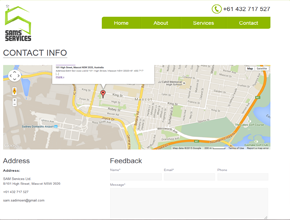 Contact us Page
Contact us page provides the basic information about the location of office and also provides the interface to ask any query.